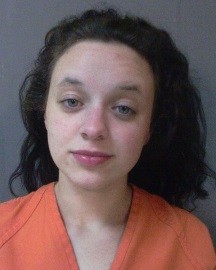 Lake Charles –
On February 1 at approximately 5:45 p.m., Calcasieu Parish Sheriff's Office deputies were dispatched to a home on Lance Street in Sulphur in reference to a stabbing. When deputies arrived, they discovered Breanna Vidrine, 19, 6861 Earl Ellender Road, Sulphur, had stabbed a woman twice; once in the arm and once in the leg, then fled the scene before deputies arrived. After further investigation detectives learned that the victim was sitting in the driver's seat in a car with two other people when Vidrine walked up to the car and asked for the victim by name. Once the victim responded Vidrine attacked her with a hunting knife and fled to a car with a driver waiting for her at the end of the driveway. The motive is unknown at this time.
Vidrine was located and arrested and booked into Calcasieu Correctional Center and charged with aggravated second degree battery. Judge Sharon Wilson set her bond at $75,000.
The victim sustained moderate injuries and was transferred to a local hospital for treatment.
The investigation is continuing with more arrests possible.
CPSO Detective Lance Melendy is the lead investigator on this case.