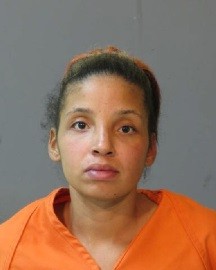 Lake Charles–
On January 27 the Calcasieu Parish Sheriff's Office responded to a local elementary school in reference to a complaint of cruelty to a juvenile. During the investigation detectives observed numerous bruises, marks and scars covering the six year old girl's body. The child advised detectives that a family member, Ebonny Morehead, 27, Lake Charles, had beaten her with an extension cord and cell phone charger cords on several occasions.
After further investigation on January 29 Morehead was arrested and booked into the Calcasieu Correctional Center and charged with cruelty to a juvenile. Judge Robert Wyatt set her bond at $100,000.
The Department of Child & Family Services placed the girl, as well as Morehead's seven minor children, in state custody.
CPSO Detective John Casarez is the lead investigator on this case.