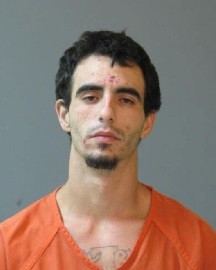 Lake Charles, LA –
On January 12 at approximately 4:00 p.m., a Calcasieu Parish Sheriff's Office deputy attempted to stop a SUV for a traffic violation near the intersection of Old River Road and Highway 12 West in Starks. When the deputy activated his car's lights and sirens signaling for the driver to stop, the driver, later identified as Rocky L. Gordon, II, 25, 4926 Hiner Road, Starks, did not comply and continued to flee from the deputy at a high rate of speed. Moments later, Gordon lost control of the vehicle and flipped the SUV into a tree. Gordon then jumped out of the SUV and fled on foot into a wooded area, where deputies searched for over an hour but were unable to locate him. Deputies located a loaded .22 caliber rifle in the SUV as well as drug paraphernalia.
On January 13 Judge Michael Canaday signed a warrant for Gordon's arrest in the amount of $68,150. Gordon is being charged with a traffic citation; aggravated flight from officer; possession of drug paraphernalia; possession of firearm by convicted felon; and resisting arrest.
The Calcasieu Parish Sheriff's Office is asking the public for assistance in locating Gordon. If anyone knows of his whereabouts, please call the CPSO Warrants Division at 491-3780.
CPSO Deputy Chris Hathaway is the lead deputy on this case.