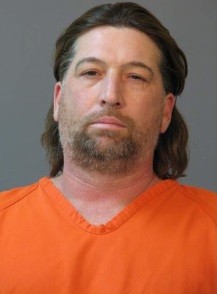 Lake Charles, LA –
On January 9 at approximately 9:25 a.m., Combined Anti-Drug Task Force (C.A.T. Team) Detective Cpl. Kevin Hoover conducted a stop on a truck near mile marker 21 traveling eastbound on I-10 for a traffic violation.
When Cpl. Hoover spoke with the driver, Michael Rider, 46, 8636 Big Lake Road, Lot 17, Lake Charles, he began to act suspiciously. Cpl. Hoover also smelled a strong odor of raw marijuana emitting from the inside of the truck. Cpl. Hoover requested permission to search the truck and Rider gave consent. During the search of the vehicle, Cpl. Hoover located two firearms in the center console. Cpl. Hoover then located a motor oil box on the rear floor board containing a bundle of marijuana wrapped in green cellophane and a gallon zip lock bag of compressed marijuana wrapped in a white plastic bag located in a compartment in the truck bed. Cpl. Hoover also located two marijuana grinders and three small bags containing marijuana in a shaving kit inside the vehicle. Cpl. Hoover recovered approximately 13 pounds of marijuana in the truck, with an estimated street value of $13,000.
Rider was arrested and booked into the Calcasieu Correctional Center and charged with possession of CDS I (marijuana) with intent to distribute; possession of drug paraphernalia; and 2 counts of illegal carry of a firearm in the presence of CDS. He was released the next day on a $8,000 bond set by Judge Guy Bradberry.