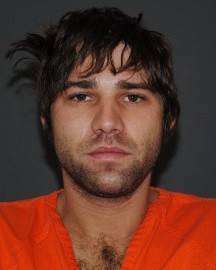 Lake Charles –
On January 4 at approximately 6:00 p.m., Calcasieu Parish Sheriff's Office deputies were dispatched in reference to an alarm being activated at a business on Highway 14 in Lake Charles.
When deputies arrived they observed Christopher Phillips, 27, 700 Henning Drive, Sulphur, walking from the south side of the parking lot, covered in mud, with a large rock in his hands. Deputies advised Phillips that they were on scene for an alarm activation and he was going to be patted down. Phillips told deputies several times he had no weapons but during the pat down deputies discovered a .45 caliber magazine with several rounds in it. When deputies questioned Phillips about the magazine he told deputies that he had a weapon in his jacket, at which time deputies detained Phillips for safety. Deputies located a Smith and Wesson .45 automatic handgun with a full magazine and one in the chamber, concealed on the inside of Phillips' jacket. Deputies also located a golf club, that was later determined to be stolen from the business, concealed in Phillips' pants leg.
After further investigation deputies conducted a search around the perimeter of the business and found an unlocked door with a broken window on the west side of the building. Deputies also observed a table with mud smeared on the top outside near the door; it appeared the table was used to gain entry by standing on it to unlock the door through the broken window. When deputies spoke with Phillips denied breaking into the business; he told deputies he was fishing in a canal when he slipped in the mud.
Phillips, who is a convicted felon, was arrested and booked into the Calcasieu Correctional Center and charged with aggravated burglary; simple criminal property damage under $500; theft under $750; illegal carry of a firearm; and possession of a firearm by a convicted felon. Judge Guy Bradberry set his bond at $14,000.
The stolen golf club was returned to the business owner.
CPSO Cpl. Randall Ravia was the arresting deputy on this case.