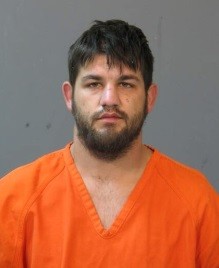 Lake Charles –
On December 31 at approximately 8:00 p.m., a Calcasieu Parish Sheriff's Office deputy was dispatched to Pete Seay Road in Sulphur in reference to a pickup truck stuck in a ditch.
When the deputy spoke with the driver, Patrick Godeaux Jr., 27, 1697 W. Burton Street, Sulphur, he had slurred speech and unsteady balance. Godeaux confirmed to deputies that he drove his truck after he took medication that was not prescribed to him. Godeaux was also found to be in possession of an open container of alcohol inside the truck.
He performed poorly on a standard field sobriety test. Godeaux, who has two prior DWI arrests in the last 10 years, was arrested and booked into the Calcasieu Correctional Center and charged with DWI 3rd; driving under suspension for prior DWI; careless operation; and open container. He was released on a $10,450 bond set by Judge Sharon Wilson. Godeaux's special conditions of bond are he cannot operate a vehicle without ignition interlock device or a valid driver's license.
CPSO Deputy Cpl. Freddie Galicia was the arresting deputy on this case.