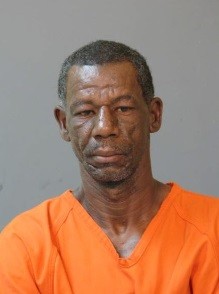 Lake Charles –
On December 7 at approximately 1:30 a.m., Calcasieu Parish Sheriff's Office deputies conducted a stop on a car on Highway 171 in Lake Charles for a traffic violation. When deputies spoke with the driver, Kerry Leday, 50, 1706 N. Lincoln St., Lake Charles, they discovered Leday, a sex offender who was convicted of forcible rape in August 1983 in Evangeline Parish, did not possess his sex offender ID Card which is required by law for all registered sex offenders.
During further investigation, deputies also discovered Leday had moved to Calcasieu Parish without notifying or registering with the proper authorities within three days as required by law for all registered sex offenders. It was also learned that Leday was driving a vehicle that was not registered with law enforcement, making him in violation of his sex offender registration requirements.
Leday was arrested and booked into the Calcasieu Correctional Center and charged with 2 counts of failure to register as a sex offender; failure to comply with sex offender identification requirements; driver's license not on person; and no turn signal.
Judge Ronald Ware set his bond at $6,000.
CPSO Deputy Brian Haley was the arresting deputy on this case.