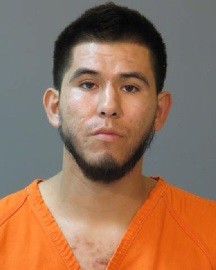 Lake Charles, LA –
On November 13 at approximately 11:00 a.m., Combined Anti-Drug Task Force (C.A.T. Team) Detective Sgt. Derek Goss conducted a stop on a vehicle near mile marker 38 traveling eastbound on I-10 for a traffic violation.
When Sgt. Goss spoke with the driver, Joseph Zamora, 23, California, and the passenger, they began to act suspiciously. Zamora and the passenger also gave conflicting stories about their reason for travel. Sgt. Goss detected a strong odor of marijuana coming from inside the vehicle and observed marijuana in plain view.
During a subsequent probable cause search of the vehicle, Sgt. Goss recovered approximately 4.5 pounds of high grade marijuana in the trunk, with an estimated street value of $14,000.
Zamora was arrested and booked into the Calcasieu Correctional Center and charged with possession of CDS I (marijuana) with intent to distribute. Judge Robert Wyatt set his bond at $50,000.