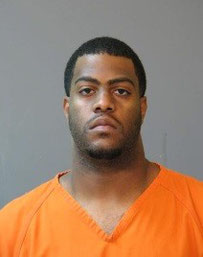 Lake Charles, LA –

On October 4 the Calcasieu Parish Sheriff's Office received a complaint regarding a man possibly having inappropriate sexual contact with a 14 year old girl. On October 15 detectives interviewed the complainant who advised that sometime in July she observed a male wearing only boxer shorts in bed with a 14 year old family member at a local hotel, but was unsure of who the male was. She told detectives she told the man to stay away from the girl and also told him she was only 14 years of age. On November 4 after further investigation detectives learned the male was Jeffery J. Chretien, 22, 1416 Mitchell Street, Lake Charles. When detectives interviewed Chretien he confirmed he had been in bed with the girl and was about to engage in sexual intercourse when the complainant walked in on them in July. Chretien also told detectives he had sexual intercourse with the girl on two other occasions at local hotels, after he learned she was only 14.
Chretien was arrested and booked into the Calcasieu Correctional Center and charged with 2 counts of felony carnal knowledge of a juvenile; and indecent behavior with a juvenile.
Judge Clayton Davis set his bond at $40,000.
CPSO Detective Cinnamon Salvador is lead investigator on this case.