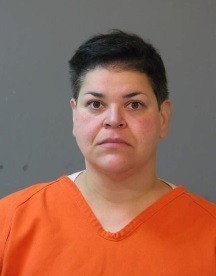 Lake Charles–
The Calcasieu Parish Sheriff's Office received another complaint in reference to Jennifer Kober, 42, Santa Monica, CA, using a family member's identity. After further investigation it was learned that in May, Kober used a family member's name to obtain an apartment without the victim's knowledge. Detectives also learned that in August, Kober released a podcast in which she mentions another family member during the podcast, who currently has a protective order against Kober. One of the provisions in the protective order states that Kober is not allowed to speak or reference the family member in any of her performances or acts.
On October 16 a warrant was issued for Kober's arrest. On October 23 Kober turned herself into the CPSO Warrants Division and was arrested and booked into the Calcasieu Correction Center and charged with identity theft; and violation of a protective order. Judge Guy Bradberry set her bond at $7,500.
Kober was previously arrested on October 13 for unauthorized use of an access card; and identity theft after an investigation revealed Kober charged $900 on a family member's debit card without permission and used another family member's name to obtain utility services in 2013 for her residence in California.
CPSO Detective Eddie Curol is the lead investigator in this case.