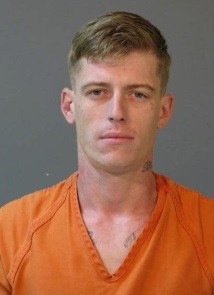 Lake Charles, LA –

On September 16 the Calcasieu Parish Sheriff's Office received a complaint regarding Jacob L. Hastings, 27, 2216 Saint Francis Street, Sulphur, having inappropriate sexual contact with a 16 year old girl, who was a family acquaintance. The victim told detectives she had sexual intercourse with Hastings on numerous occasions from May until August. The victim also told detectives that Hastings asked the victim to send inappropriate photographs of herself to him. Detectives performed a forensic examination of Hastings' cell phone and found several videos and nude photographs of the victim. It was also learned that Hastings sent inappropriate photographs of himself to the 16 year old victim.
On October 20 detectives interviewed Hastings and he confirmed the allegations. Hastings, who was already incarcerated at the Calcasieu Correctional Center on unrelated charges, was charged with 5 counts of felony carnal knowledge of a juvenile; and 5 counts of indecent behavior with a juvenile.
Judge Guy Bradberry set his bond at $250,000.
CPSO Detective Michael Primeaux is lead investigator on this case.