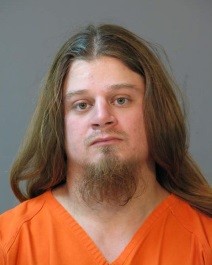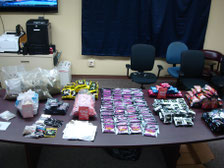 Lake Charles, LA –
On September 27 at approximately 5:50 p.m. the Calcasieu Parish Sheriff's Office received a complaint in reference to shots fired at a local mini-storage facility in Lake Charles. When deputies arrived they observed a truck attempting to leave out of the east side gate of the business. When deputies made contact with the driver of the vehicle, later identified as Brandon L. Keenan, 32, 116 Mallard Street, Lake Charles, he began to act suspiciously. While speaking with Keenan deputies observed numerous unopened packs of synthetic marijuana inside the vehicle. Kennan was placed under arrest and a subsequent search of his person revealed numerous additional unopened packs of synthetic marijuana.
Detectives Chris Johnson and Jeremy Nunez with the Combined Anti-Drug Task Force (C.A.T. Team) were called out in reference to the investigation. Once C.A.T. Team detectives arrived they assumed control of the investigation. During further investigation detectives learned that prior to the deputies arrival at the mini storage facility Keenan had accessed one of the storage units. Detectives obtained a search warrant for the storage unit and Keenan's residence. The searches resulted in the seizure of nine hundred and forty-five (945) individually sealed packs of synthetic marijuana along with several large gallon zip-lock bags containing synthetic marijuana, for a total of twenty-one (21) pounds of synthetic marijuana, with an estimated street value of $48,000. Detectives also located materials used during the packaging process; which included several thousand unused bags, a heat sealer used to seal the bags, blank labels, and a printer used to make homemade "brand name" labels.
Keenan, who is currently on parole for prior felony drug-related convictions, was booked into the Calcasieu Correctional Center and charged with possession of CDS I over 400 grams; and possession of drug paraphernalia. Judge Sharon Wilson set his bond at $16,000.