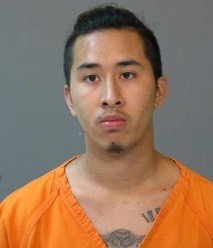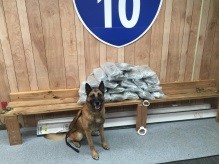 Lake Charles, LA –
On September 24 at approximately 9:40 p.m. the Combined Anti-Drug Task Force (C.A.T. Team) Detective Cpl. Chad Booth conducted a stop on a truck near mile marker 38 traveling eastbound on I-10 for a traffic violation.
When Cpl. Booth was talking with the driver of the truck, Saviay S. Phouchane, 21, Amarillo, Texas, he began to act suspiciously. Cpl. Booth asked for permission to search the car but Phouchane refused. Cpl. Booth then allowed his trained and certified drug detection K-9 "Sam" to conduct a free air sniff around the truck. After Sam provided a positive response to the odor of controlled substance coming from the truck a search was conducted and revealed twenty-two (22) Ziploc freezer bags containing a total of twenty-two (22) pounds of suspected high grade marijuana, with an estimated street value of $60,000, concealed in a duffle bag located in the back seat of the truck under clothing.
Phouchane was arrested and booked into the Calcasieu Correctional Center and charged with possession of CDS I with the intent to distribute. His bond is still pending.