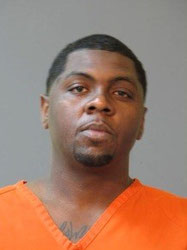 Lake Charles –

On September 24, 2015 at approximately 2:25 a.m., Calcasieu Parish Sheriff's Office deputies conducted a traffic stop on a motorcycle on Highway 14 in Lake Charles for a traffic violation.
When deputies spoke with the driver, Albert J. Anderson Jr., 33, 3614 McKinley Street, Lake Charles, they discovered he did not have a motorcycle endorsement nor did he have a vehicle inspection sticker. When deputies asked Anderson to remove his helmet he attempted to get back on his motorcycle but was detained by deputies. While speaking with Anderson deputies detected an odor of alcohol emitting from his breath as well as slurred speech and unsteady balance.
Anderson was arrested and transported to the Calcasieu Parish Sheriff's Office for standard field sobriety testing which he refused. While deputies were attempting to administer the breath intoxilyzer test Anderson opened the door and stated to deputies that he was leaving. Deputies had to detain Anderson through the duration of the breath intoxilyzer test, to which he refused to submit a breath sample. Anderson attempted to flee again and kicked a deputy while trying to escape. Anderson continued to fight with deputies while he was transported to the Calcasieu Correctional Center.
Anderson, who has 2 prior DWI arrests, was charged with DWI 3rd; simple escape; resisting an officer by force or violence; battery on a police officer; no headlamps when required; special restrictions on green lights; no motorcycle endorsement; and no motor vehicle inspection sticker. He was booked into the Calcasieu Correctional Center.
Judge Clayton Davis set Anderson 's bond at $16,400.
CPSO Sr. Cpl. Travis Lavergne and Jacob Daughenbaugh were the arresting deputies on this case.