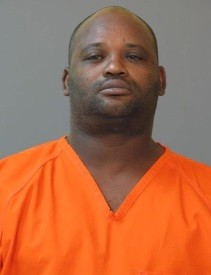 Lake Charles –

On September 20 at approximately 5:15 p.m., Calcasieu Parish Sheriff's Office deputies were dispatched to a home in Lake Charles in reference to a rape.
Upon arrival, deputies were advised that moments earlier Clifton L. Thomas, 43, Lake Charles, acquaintance and roommate of the victim, asked her to come into the living room. Once the victim entered the living room Thomas pushed her on the couch, removed her pants and attempted to rape her. Thomas stopped his attempt when he heard another roommate entering the room and the victim was able to call her mother who called 911.
When deputies arrived they located Thomas inside the home. Thomas was arrested and booked into the Calcasieu Correctional Center and charged with attempted 2nd degree rape. Judge Clayton Davis set his bond at $50,000.
CPSO Deputy Cpl. Landry Willis was the arresting deputy in the case. CPSO Detective Dennis Pippin is the lead investigator on this case.