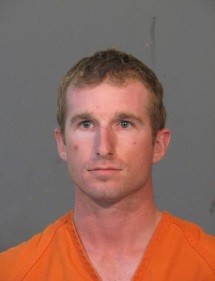 Lake Charles –

On September 7 Calcasieu Parish Sheriff's Office deputies were dispatched after receiving a complaint regarding Laddy R. Ledoux, 31, Lake Charles, physically abusing a 6 year old male family member. During the investigation it was learned that Ledoux hit the child with a belt, leaving several bruises on the back of his thighs, and punched the child in the stomach. A witness also told detectives that she watched Ledoux slap the son on the shoulder with an open hand because the child wasn't moving fast enough. The witness described the power of the open hand slap as if Ledoux was hitting an adult.
Detectives observed dark colored bruises on the back of the child's thighs and discoloration on his stomach that was still visible approximately five days after the incident. When Ledoux was questioned by detectives he admitted to spanking the child twice with a belt, but said the bruises were from the child falling off a bike.
After further investigation Ledoux was arrested on September 10 and booked into the Calcasieu Correctional Center and charged with cruelty to a juvenile; and domestic abuse battery.
Judge Michael Canaday set his bond at $135,000 with special conditions of bond being he must stay away from the victim until court proceedings are resolved and he is subject to random drug screens by the court.
CPSO Detective John Casarez is the lead investigators on this case.
The Department of Child & Family Services placed the child in the custody of a family member.