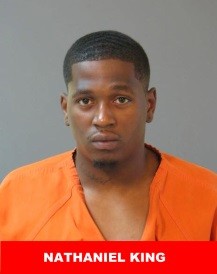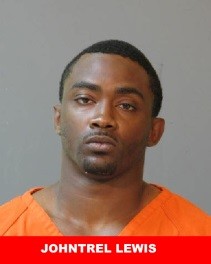 Lake Charles –

On Tuesday, September 8 at approximately 12:30 a.m. Calcasieu Parish Sheriff's deputies conducted a stop on a vehicle at the intersection of E. McNeese Street and Kirkman Street in Lake Charles for a traffic violation. When the deputy approached the passenger, Nathaniel A. King, 24, 2528 19th Street, Lake Charles, he smelled an odor of marijuana coming from inside the vehicle. Deputies asked the driver, Johntrel J. Lewis, 26, 211 Libby Street, Lake Charles, and King to step out the vehicle, at which time King opened the door and reached into the door panel and pulled out a gun. When deputies attempted to gain control of the gun a brief struggle ensued at which time King elbowed one of the deputies in the mouth and pointed the gun at the deputies. Deputies were able to gain control of the gun and King was detained. During a subsequent search of the vehicle deputies located marijuana on the floorboard.
King, who is on parole for a simple robbery conviction in 2012, and Lewis were both arrested and booked into the Calcasieu Correctional Center. Lewis is charged with possession of marijuana; driving under suspension; and no headlamps. King is charged with 2 counts of aggravated assault on a peace officer with a firearm; possession of a firearm by convicted felon; possession of marijuana; possession of a firearm in the presence of CDS; resisting an officer with force or violence; battery on a peace officer; and obstruction of justice. King also has a detainer for Probation and Parole.
Judge Michael Canaday set King's bond at $185,000 and Lewis has a preset bond of $1,100.
CPSO Deputies Sr. Cpl. Nathan McKee, Cpl. Cody Soileau and Michael Miller were the arresting deputies.