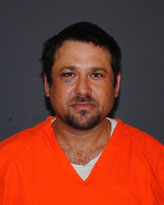 Lake Charles –

At approximately 11:30 p.m. yesterday evening the Calcasieu Parish Sheriff's Office responded to a call at a local bar on Hwy 171 in Moss Bluff in reference to a man passed out and unresponsive, later identified as Joshua H. Heinbach, 32, Sulphur. When deputies arrived Heinbach had already left in a car with his girlfriend driving. When Heinbach began beating his girlfriend in the car she pulled over near Hwy 171 and Theriot Road and called 911. When a deputy arrived at the scene Heinbach ran behind a home and a short chase ensued. Once the deputy went through a fence Heinback came at the deputy, at which time the deputy fired one shot, hitting Heinbach in the upper torso. The deputy immediately rendered aid until medical personnel arrived.
Heinbach was transported by ambulance to a local hospital where he remains in stable condition. He will be charged with domestic abuse, battery, simple battery on a police officer; and trespassing.
Sheriff Tony Mancuso has requested the Louisiana State Police conduct an investigation into the officer involved shooting incident.