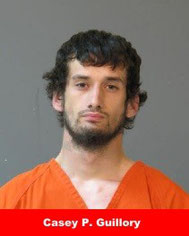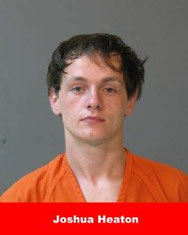 Lake Charles –
On August 13, at approximately 11:20 a.m., Calcasieu Parish Sheriff's Office detectives were dispatched to a home on Melba Street in Sulphur in reference to a burglary in progress. Detectives were advised the complainant saw the suspects knocking on the front door of the home and when no one answered they ran around to the back of the residence.
After detectives arrived, while performing a perimeter search of the residence, they witnessed two suspects, later identified as Casey P. Guillory, 22, 516 W. Elizabeth St, and Joshua Heaton, 19, 4628 Maplewood Dr., both of Sulphur, running from behind the residence. Guillory and Heaton were taken into custody without incident.
During further investigation detectives learned the men entered the home by removing duct tape from a broken window on a door and reaching inside to unlock the door. When detectives questioned Guillory and Heaton they both admitted to going in the residence in order to steal an Xbox, but ran out of the home when they saw someone sleeping on the couch. It was discovered that Guillory and Heaton did not know the victim, but had been to the home once before with a mutual friend and saw the Xbox.
Guillory and Heaton were booked into the Calcasieu Correctional Center and were both charged with simple burglary of an inhabited dwelling; and attempted theft under $750.
CPSO Detective James Reed is the lead investigator on this case.