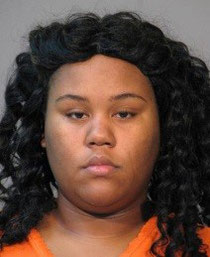 Lake Charles –
On August 2 at approximately 9:30 p.m., Calcasieu Parish Sheriff's Office deputies were dispatched to a home on Corbina Road in Lake Charles regarding a burglary.
Upon arrival, deputies spoke with the victim who advised that she returned home and had discovered two televisions, worth approximately $1,300, were missing.
During the investigation, detectives received video footage from the trailer park which showed Oneischa Bellard, 20, 6671 Corbina Road, Lake Charles, drive her car by the victim's home and gain entry into the home through a bedroom window. After further investigation detectives were able to locate one of the TVs at a local pawn shop with Bellard's signature on the pawn slip.
Bellard was arrested and booked into the Calcasieu Correctional Center and charged with simple burglary; theft $750 -$5,000; and illegal possession of stolen property. She was released on a $5,000 bond set by Judge Sharon Wilson.
CPSO Detective Roy Pesson is the lead investigator on this case.