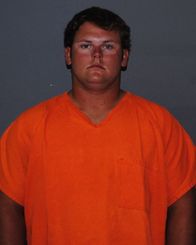 Lake Charles –

Last night at approximately 11:30 the Calcasieu Parish Sheriff's Office responded to a call of a body in a ditch on Weaver Road. The investigation revealed a truck driven by Grant T. Henning, 19, 4500 Country Club Rd., Lake Charles, was traveling southbound on Weaver Rd. approaching Ham Reid Rd. when the truck struck a 27 year old man, Jeremy Daniels, who was walking on the side of the road. Henning fled the scene in his truck and failed to render aid. Daniels died at the scene as a result of the impact.
Henning was arrested and booked into the Calcasieu Correctional Center and charged with felony hit and run.
Judge Sharon Wilson set his bond at $20,000.