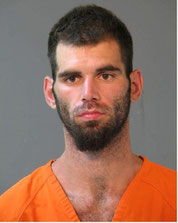 Lake Charles –

Last night at approximately 11:00 p.m., the Calcasieu Parish Sheriff's Office responded to a convenience store on Beglis Parkway in Sulphur in reference to a rape. The investigation revealed James J. Domingue, 26, 2613 Agnes St., Sulphur, entered the store and locked the door unbeknownst to the store clerk who was in the store by herself. Domingue coaxed her to the back of the store by asking her questions under the pretense of a particular item he was looking for. Once near the back of the store, he grabbed the clerk by the hair and forced her into the storage room at the rear of the store. He struck her numerous times in the face and forced her to perform oral sex. She attempted to resist but was unable to do so. Domingue forced her to lay on the floor where he raped her. After the rape, Domingue let himself out of the store after making the clerk give him merchandise from the store.
Still pictures of the surveillance video lead to the identification of Domingue. He was captured by CPSO Patrol Division at the corner of S. Post Oak and Ethel St. in Sulphur around 4:30 a.m.
Domingue was arrested and booked into the Calcasieu Correctional Center. He is charged with rape; kidnapping; and false imprisonment. His bond is pending.
Domingue is a previously convicted sex offender having been convicted of rape in August 2011 and sentenced to three years. He also has been charged with failure to register several times.
CPSO Detective Cinnamon Salvador is the lead investigator on this case.