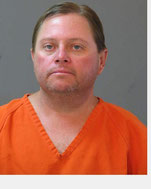 Lake Charles –
The Calcasieu Parish Sheriff's Office responded to a complaint of burglary and theft from a home that occurred between June 29 – July 17. The investigation revealed Mitchell C. Bordelon, 44, 6505 Nelson Rd., Lot 126, Lake Charles, gained entry into his friend's home and stole tools, pots, a shotgun and a rifle. Bordelon confirmed to detectives that he stole the items and sold them to two different area pawn shops. The estimated value of the stolen items was $1,500. All items were recovered from the pawn shops.
Bordelon was arrested on July 30 and booked into the Calcasieu Correctional Center. He is charged with burglary; theft $750-$5000; theft of a firearm; and illegal possession of stolen property. Judge Michael Canaday set his bond at $16,000.
CPSO Detective Roy Pesson is the lead investigator on this case.