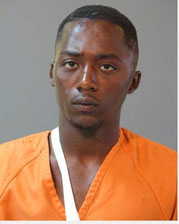 Lake Charles –

During the early morning hours of July 30, the Calcasieu Parish Sheriff's Office responded to the Sunrise Inn on Highway 90 in Lake Charles in reference to a burglary. During the investigation, deputies learned that two men entered a motel room occupied by several people, armed with a handgun and demanding money from them. During the course of the incident, one of the suspects, Traelyn D'Quann Campbell, 19, 2302 10th St., Lake Charles, was overpowered by the victims. While being disarmed, a shot was fired, however, no one was injured. Once disarmed, Campbell was struck with his own gun and was subdued until deputies arrived. Campbell was treated at a local hospital for numerous injuries to the head.
Campbell was booked into the Calcasieu Correctional Center and charged with 1count of aggravated burglary. Bond was set at $150,000 by Judge Michael Canaday.
A second suspect, who ran from the motel room, is currently being sought. He is described as a black male with light skin tone, short dreadlocks, approximately 6'0 tall, and weighing 180 lbs. Anyone having any information about his identity or whereabouts is asked to call lead investigator, CPSO Sr. Sgt. Brent Young, at 491-4563.