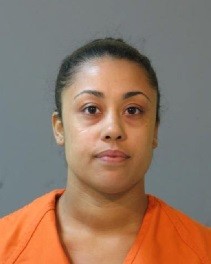 Lake Charles –

On July 2, around 2:45 p.m., Calcasieu Parish Sheriff's Office deputies responded to a report of a 3 year old child left unattended inside a vehicle with the windows rolled down only a couple of inches and the vehicle not running, in a parking garage off of Lakeshore Drive in Lake Charles, for approximately 30 minutes.
Upon arrival, deputies located the mother of the child, Tiffany M. Victorian, 29, Baton Rouge, who confirmed she left the child unattended inside the vehicle. When questioned by detectives Victorian advised she made a mistake and was entitled to make a mistake.
Victorian was arrested and booked into the Calcasieu Correctional Center and charged with child desertion and released on a $2,500 bond set by Judge Robert Wyatt.
The child was released to a family member.
According to the National Weather Service the temperature on July 2 at 2:30 p.m. was approximately 88 degrees. The National Highway Traffic Safety Administration has noted that the temperature inside an enclosed vehicle, with the windows rolled down 2 inches, can rise an average of 20 degrees within 10 minutes.
CPSO Detective Sarah Stubbs in the lead investigator on this case.