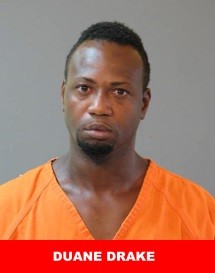 Lake Charles, LA –

On June 22 Calcasieu Parish Sheriff's Office deputies were dispatched to a local hospital after receiving a complaint regarding the sexual assault of a 9 year old girl. Once deputies arrived and began their investigation, it was revealed an 8 year old girl was also the victim of a sexual assault by the same man.
During the investigation detectives learned Duane Drake, 39, Georgia Road, Lake Charles, a family acquaintance of one of the victims, had inappropriate sexual contact with the two girls on the same night and at the same house one night during the last few months. One of the victims told detectives that Drake forced her to watch a pornographic video before sexually assaulting her. Both victims advised detectives that Drake threatened them with a knife and told them if they told anyone he would kill them.
On June 23 when detectives attempted to question Drake, he was unable to be interviewed due to his level of intoxication. He was arrested and booked into the Calcasieu Correctional Center and charged with aggravated rape; sexual battery; 2 counts of aggravated assault; and 2 counts of indecent behavior with a juvenile.
Judge Guy Bradberry set his bond at $750,000.
CPSO Detective William Wilcox is the lead investigator on this case.