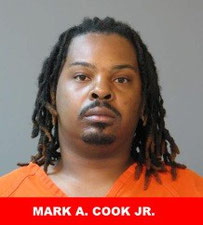 Lake Charles, LA –
On June 17 at approximately 1:30 a.m. the CPSO Vice Division received a call from the Houston Police Department Vice Unit in reference to a 16 year old runaway juvenile. Houston Vice learned from cell phone pings that the female juvenile, from Texas, was using a phone in the vicinity of a local hotel located on Lake Street in Lake Charles. During further investigation CPSO Vice learned that the girl was being prostituted by Mark A. Cook, Jr., 26, 101 N. Shattuck St., Lake Charles.
Later the same day CPSO Vice Detectives utilized an undercover agent to set up a prostitution deal with the juvenile. Once the undercover agent arrived at the hotel he met up with the juvenile and detained her. Detectives were able to confirm the juvenile was in fact the runaway from the Texas area. The juvenile confirmed her identity and was able to give a clothing description of her "pimp," Cook. Detectives were able to locate Cook near the side exit of the hotel and placed him under arrest without incident.
When detectives questioned Cook he admitted that he picked up the juvenile in Alexandria, LA and brought her back to Lake Charles to "pimp" her out. The juvenile told detectives that Cook had contacted her on June 16, and asked her if he could come pick her up. She also told detectives that when they returned to Lake Charles she set up two prostitution deals and Cook demanded she give him the money.
Cook, who is a registered sex offender who was convicted of carnal knowledge of a juvenile in 2012, was arrested and booked into the Calcasieu Correctional Center and charged with human trafficking; and pandering. Cook was also charged with violations of sex offender registration; as a part of Cook's sex offender registration he is mandated to report any vehicle he drives and is not allowed to be around juveniles, both stipulations he failed to follow.
Judge Robert Wyatt set Cook's bond at $350,000.
The investigation is ongoing and more charges may follow.
CPSO Vice Detective Michael Trosclair is the lead investigator on this case.