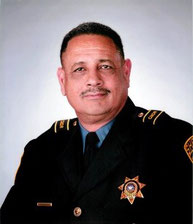 Lake Charles –
Calcasieu Parish Sheriff Commander Darrell Guillory, 61, passed away Saturday night at approximately 8:30 in a local hospital after a brief illness. Commander Guillory began his career at the Sheriff's Office in 1980, leaving in 2000 to work at the Ward 3 Marshal's Office for four years, then rehired at the Sheriff's Office in 2004 under Sheriff Tony Mancuso.
Throughout Guillory's career at the Sheriff's Office he worked in many divisions including Corrections, Warrants and Community Relations before becoming Commander and Chief Civil Deputy of the Civil Division in 2008.
"Darrell was not only a great employee, but a great friend to many of us at the Sheriff's Office," says Sheriff Mancuso. "It's like losing a member of our family. He will be sorely missed. Our thoughts and prayers are with his family."
Guillory is survived by two brothers, Martin and Merrill; and two sisters, Theresa Brignac and Janet Labbe. He is preceded in death by his mother, Lillie Boutte Guillory; his father, Gervis Guillory; and brothers, Ronald Guillory and Harvey Guillory.
Funeral arrangements are pending.