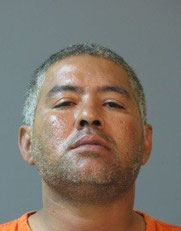 Lake Charles –

On May 23, at approximately 8:30 p.m., a Calcasieu Parish Sheriff's Office deputy conducted a traffic stop on a car for swerving side to side and crossing the center lane. When the deputy spoke with the driver, Miguel Mesa II, 37, 7950 Clearview Dr. #14, Lake Charles, he admitted to the deputy that he had been drinking alcohol before driving. While deputies were speaking with Mesa, he began to fall asleep. Mesa also had his 5 year old son inside the car with him.
Mesa was unable to perform field sobriety testing at the scene due to his impairment and was taken to a local hospital to have his blood drawn for a toxicology report.
Mesa, who has 2 prior DWI arrests in the last ten years, was arrested and booked in the Calcasieu Correctional Center and charged with DWI 3rd; DWI with child endangerment; and careless operation.
Judge Michael Canaday set Mesa's bond at $36,000.
CPSO Cpl. Freddy Galicia was the arresting deputy on this case.