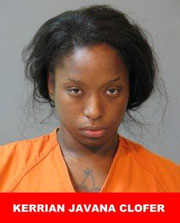 Lake Charles –

On May 14, Calcasieu Parish Sheriff's Office deputies responded to call at a local hospital concerning an 8 year old girl having severe burns on both her hands and numerous marks all over her body. Once detectives arrived the child stated that Kerrian Javana Clofer, 26, Elms Street, Lake Charles, had held her hands over the open flame of a gas stove after she ate a snack without permission. The victim told detectives Clofer would handcuff and tie her to the legs of a bed while Clofer slept and went to work. She told detectives she was not allowed to eat for days, and when she was allowed to eat Clofer fed her noodles with salt and pepper. She also told detectives that Clofer would beat her with a belt and a metal clothes hanger.
Clofer was booked into the Calcasieu Correctional Center and charged with 2nd degree cruelty to a juvenile; and false imprisonment.
Judge David Ritchie set her bond at $700,000 with the special conditions being Clofer can have no contact with the victim and no other criminal activity.
The child was transported to a hospital in Baton Rouge and is currently in the Pediatric Intensive Care Unit. Judge Lilynn Cutrer has ordered that once released from the hospital, the child will be placed in state's custody.
CPSO Detective William Wilcox is the lead investigator on this case.