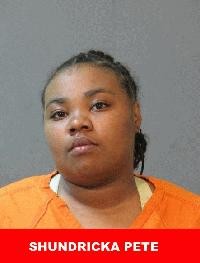 Lake Charles –
On March 13, at approximately 1:00 a.m., Calcasieu Parish Sheriff's Office deputies were dispatched to Vegas Magic casino located at 520 Hwy. 397 in Lake Charles, in reference to an armed robbery.
Upon arrival deputies spoke with the security guard who advised a man, later identified as Malik Isaiah Mitchell, 18, 1901 See Street, Lake Charles, entered the casino and demanded money from the security guard.  During the investigation is was learned that as the security guard attempted to explain she did not have the money, Mitchell held a gun to her head and a struggle ensued.  During the struggle, Mitchell attempted to shoot the security guard, however, the firearm failed to discharge.  Mitchell disarmed the security guard by taking her gun, and then pointed the weapon at the cashier.    
After stealing an undisclosed amount of money, Mitchell fled on foot with both his firearm and the security guard's firearm.
During further investigation, detectives learned that Shundricka Pete, 22, 2003 North Jake Street, Lake Charles, participated along with Mitchell in the planning and execution of the armed robbery.
On March 19, Pete was arrested and booked into the Calcasieu Correctional Center and charged with armed robbery and armed robbery use of a firearm.  She was released on a $175,000 bond set by Judge Michael Canaday. 
On March 20, Judge Michael Canaday signed a warrant in the amount of $675,000 for Mitchell's arrest.  Detectives received information that Mitchell was in the Alexandria area and on March 27, Mitchell was arrested by the U.S. Marshall's Task Force and booked into the Rapides Parish Detention Center I.  Mitchell is being charged with armed robbery; armed robbery use of a firearm; theft of a firearm; and attempted second degree murder.   
CPSO Detective Beth McGee is the lead investigator on this case. 
Note: There is no mug shot of Mitchell at this time.
---