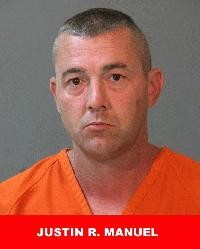 Lake Charles, LA –
The Calcasieu Parish Sheriff's Office is warning area residents of a panhandler, Justin Ray Manuel, 34, 3507 Bayou Dinde Pass, Westlake, who has been frequenting local businesses in Calcasieu Parish and targeting elderly citizens and vulnerable shoppers.  Victims report Manuel approaches them and asks for money in a pushy and persistent manner and does not want to take no for an answer.  This frightens most of the people he approaches. 
On April 4, the Sheriff's Office received a call about Manuel trespassing at a local business.  Once deputies arrived on scene Manuel tried to leave the area; however, he was arrested and booked into the Calcasieu Correctional Center for criminal trespassing.  Manuel has a preset bond of $1,000.  
Since 2013 the Sheriff's Office has received complaints concerning Manuel panhandling at gas stations on Napoleon Street in Sulphur; retail stores on N. Cities Service Hwy in Sulphur; retail stores, grocery stores, and restaurants on Hwy 14 in Lake Charles; retail stores and fast food restaurants on Broad Street in Lake Charles; grocery stores on Nelson Road in Lake Charles; and grocery stores in Moss Bluff.  Manuel is driving a white four door 2005 Buick Century.    
Within the last four years, CPSO and other local law enforcement agencies have received numerous complaints about Manuel panhandling inside businesses and in the parking lot. 

"While this may not seem like a big deal to some people, when our senior citizens cannot go shopping without being intimidated and harassed by a man approaching them and asking for money, it's a big deal to us," says Sheriff Tony Mancuso.  "This man has been scamming and targeting people in our parish for too long.  Now he's the target – every time he is caught doing this, he will be arrested."
The Calcasieu Parish Sheriff's Office is proactively reaching out to businesses where Manuel has been seen to obtain signed letters stating they do not want him on their property.  If Manuel is  located on their property deputies will arrest him immediately.
If anyone believes they may have been victimized by Manuel, if you are approached by him asking for money, or if your business would like to sign a letter stating they do not want Manuel on their property, please call 911 or the Calcasieu Parish Sheriff's Office at 491-3605.
---