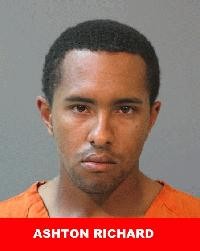 Lake Charles, LA --
On April 8, the Calcasieu Parish Sheriff's Office was contacted by a 14 year old girl's mother who told deputies her daughter had been missing since January 30.  During the investigation detectives discovered through Facebook posts and photographs that the girl was staying with Ashton Richard, 24, 803 N. Prater Street, Lake Charles.  Detectives made several attempts to make contact with Richard but were unsuccessful.   On May 1, Richard was located, with the missing girl, in Lake Charles.  Richard was transported to the Calcasieu Parish Sheriff's Office for questioning.  During questioning Richard told detectives that he met the girl through Facebook.  He confirmed that she had been staying with him at his residence since January and that he had sexual intercourse with the girl on five different occasions since October of 2014.
Richard was booked into the Calcasieu Correctional Center and charged with felony carnal knowledge of a juvenile.  Judge David Ritchie set his bond at $150,000.
CPSO Detective Anita Conrad is the lead investigator on this case.
---