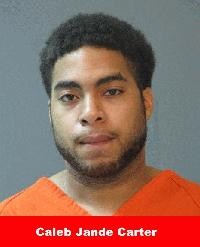 Lake Charles, LA --
In September 2014, the Calcasieu Parish Sheriff's Office received a complaint regarding Caleb Jande Carter, 22, 517 MLKHighway, DeRidder, formerly of Lake Charles, having inappropriate sexual contact with a 12 year old female acquaintance. 
After investigating the incident and attempts to locate Carter were unsuccessful,in February 2015, Judge Mike Canaday signed a $150,000 warrant for Carter's arrest.
On April 16, Carter was arrested in Beauregard Parish on the CPSO warrant and on April 20, Carter was transferred to the Calcasieu Correctional Center.  Carter was booked into the Calcasieu Correctional Center and charged with carnal knowledge of a juvenile. When detectives spoke with Carter he confirmed he engaged in sexual intercourse with the victim. 
CPSO Detective Cinnamon Salvador is the lead investigator on this case.
---