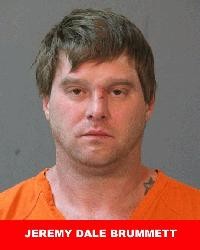 Lake Charles –
On March 27, at approximately 10:20 p.m., Calcasieu Parish Sheriff's Office deputies responded to a report of a single vehicle accident at the intersection River Road and Denison Road in Lake Charles.
Upon arrival, witnesses advised deputies the vehicle ran the stop sign and ran off the road and into a pasture.  Witnesses also told deputies the driver, later identified as Jeremy Dale Brummett, 38, 3052 Alligator Park Road, Starks, was attempting to get the vehicle out of the pasture, but the vehicle was stuck in the mud.  When the deputy approached the vehicle and spoke with Brummett he appeared very unsteady on his feet.
After Brummett performed poorly on a standard field sobriety test, he was arrested and transferred to the Calcasieu Parish Sheriff's Office, where a breath intoxilyzer test revealed he was over the legal limit.   Brummett, who has three prior DWI arrests and no valid driver's license, was booked into the Calcasieu Correctional Center charged with DWI 4th; running a stop sign; and no driver's license.
Judge David Ritchie set his bond at $103,500.
CPSO Deputy Cpl. Chad Quaal was the arresting deputy on this case.
---