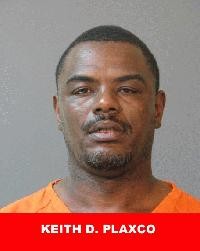 Lake Charles, LA –
On March 28, at approximately 3:44 a.m.,  Combined Anti-Drug Task Force (C.A.T. Team) Detective Cpl. Chad Booth conducted a stop on a car near mile marker 42 traveling eastbound on I-10 for a traffic violation. 
When Cpl. Booth was talking with the driver of the car, Keith D. Plaxco, 41, Alexandria, LA, hesaid he was traveling from Houston, TX to Alexandria, LA and he began to act suspiciously.  Following the traffic stop Cpl. Booth asked for permission to search the vehicle at which time Plaxco gave written permission.
 A search was conducted and revealed 800 Ecstasy tablets, with an estimated street value over $16,000, located in a Ziploc bag inside a headphone case that was concealed behind the trunk liner of the vehicle. 
Plaxco was arrested and booked into the Calcasieu Correctional Center and charged with possession of CDS I with the intent to distribute. 
 Judge David Ritchie set his bond at $100,000.
---