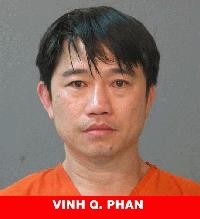 Lake Charles –
On March 21, at approximately 11:30 p.m. Calcasieu Parish Sheriff's Office deputies received a call about a possible burglary in the Moss Bluff area.  The complainant advised they had just observed a man, later identified as Vinh Q. Phan, 43, 512 Colonial Drive, Lake Charles, taking items from inside a new home that was being constructed.  The complainant was able to describe the vehicle, and deputies located the vehicle near Sutherland Road in Moss Bluff.  While speaking with Phan, deputies noticed floor tiles inside the vehicle that matched the description of ones that had been reported stolen from another construction site.  Phan gave deputies consent to search his vehicle, where they located more items that were possibly stolen from other construction job sites.
The investigation revealed Phan had been burglarizing different new home construction sites since March 1, taking building materials such as nails, windows, ovens, chandeliers, faucets, roofing materials, toilets, water heaters, and several other miscellaneous building materials. 
 A search warrant was issued for Phan's home, where detectives found numerous items that had been previously reported stolen from construction job sites.    
Phan was arrested and booked into the Calcasieu Correctional Center and charged with 7 counts of simple burglary; 2 counts of theft $5,000 to $25,000; 4 counts of theft $750 to $5,000; and theft under $750.         
Phan was released on a $65,500 bond set by Judge Michael Canaday.
            The recovered property that was found was returned back to the contractors.
            The investigation is ongoing and more charges may follow. 
CPSO Detective Deveda Benoit is the lead investigator on this case.
---