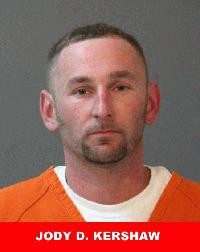 Lake Charles –
On October 26, 2013, Calcasieu Parish Sheriff's Office deputies were dispatched to a call in reference to a cruelty to a juvenile.  Upon arrival, deputies were advised by the complainant that Jody D. Kershaw, 31, 2211 Patton Street B28, Sulphur, slapped a family member across the face, leaving a red mark.
Detectives investigated the case and charged Kershaw with cruelty to a juvenile and the case was forwarded to the District Attorney's Office.  On March 4, the District Attorney's Office accepted the charge of 4th offense domestic abuse battery.  Kershaw has had at least four domestic abuse battery convictions within the last 9 years.
On March 4, Judge Sharon Wilson signed a warrant for Kershaw to be held without bond until a hearing.  Kershaw was working in Virginia and returned to Calcasieu Parish on March 16 to turn himself in when he was notified about the warrant.
Kershaw was arrested and booked into the Calcasieu Correctional Center and charged domestic abuse battery 4th and subsequent offense.
CPSO Detective Cinnamon Salvador is the lead investigator on this case.
---