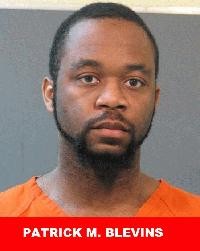 Lake Charles –
On March 12, Calcasieu Parish Sheriff's Office detectives received a call from a local bank in reference to a report of bank fraud.  When detectives arrived they were advised by the security officer that an audit was performed and it revealed that the cash lock box assigned to employee, Patrick Michael Blevins, 22, 503 Mill Street, Lake Charles, was short by approximately $23,926.23. 
When detectives spoke with Blevins he stated he did not have the money anymore because he had spent it.  Blevins also admitted to detectives that he had been taking money as far back as November of 2014. 
Blevins was arrested and booked into the Calcasieu Correctional Center that afternoon and charged with bank fraud and theft from $5,000 to $25,000.
Judge Clayton Davis set his bond at $20,000.
CPSO Detective John Melton is the lead investigator in this case.
---