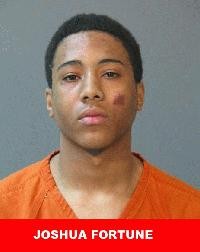 Lake Charles –
On February 23, at approximately 1:00 a.m. Calcasieu Parish Sheriff's Office deputies responded to a burglary at a home on Mary Karla Drive in Lake Charles.  Upon arrival, the homeowner advised deputies she was awakened to a man, later identified as Joshua Fortune, 17, 1724 Quail Lane Apt. A, Lake Charles, shinning a flashlight on her.  She said Fortune was in her room going through her belongings and when she screamed he fled.  She informed deputies that she had two cell phones missing from the kitchen and both of her vehicles had been burglarized.  She used the locater on her cell phone, and advised deputies her phone was in the area of Quail Lane.   
When deputies spotted Fortune a short distance away from the home he fled from deputies, resulting in a brief foot pursuit until Fortune was apprehended.  While deputies were patting down Fortune they located a large Buck knife as well as a key to a Jeep.   


During the investigation it was learned that two other vehicle burglaries had been reported the same night across the street from Mary Karla Drive.  Deputies were also able to locate the owner of the Jeep to whom the key belonged.  When talking with the owner it was learned that they had reported a home and vehicle burglary just days earlier, and one of the items taken was the Jeep key.   
 Detectives obtained a search warrant for Fortune's residence.  While searching Fortune's home detectives located several items that had been reported stolen from different burglary victims around the area.  When detectives questioned Fortune about other car burglaries in the area he confirmed he broke into several cars around his surrounding neighborhood.  Fortune also admitted to stealing three weapons from two different homes, and led detectives to a shed across from his house where they were able to located two of the three weapons. 
Fortune was arrested and booked into the Calcasieu Correctional Center and charged with aggravated burglary with a weapon; 2 counts of simple burglary of a moveable; theft over $750; and possession of stolen things.         
Fortune was released on a $95,000 bond set by Judge Michael Canaday.
The investigation is ongoing and more charges may follow. 
CPSO Detective Deveda Benoit and David Doucett are the lead investigators on this case.
---