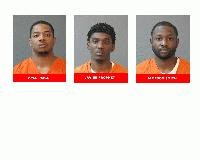 Lake Charles, LA –
On March 7 at approximately 1:30 a.m.,  Combined Anti-Drug Task Force (C.A.T. Team) Detective Cpl. Chad Booth conducted a stop on a car near mile marker 42 traveling eastbound on I-10 for a traffic violation. 
When Cpl. Booth was talking with the driver of the car, Jameson Smith, 26, Jackson, MS,  he began to act suspiciously.  Cpl. Booth then spoke with the two passengers of the vehicle, Kyle Paige, 26, and Javier Prophet, 23, both of Jackson, MS, who were also acting suspiciously and had conflicting stories about their travels.  Cpl. Booth asked for permission to search the car but Smith refused.
Cpl. Booth then allowed his trained and certified drug detection K-9 "Sam" to conduct a free air sniff around the car.  After Sam provided a positive response to the odor of controlled substance coming from the car, a search was conducted and revealed fifty-five (55) 16 ounce bottles, approximately 6.8 gallons, of non-prescribed Codeine, with an estimated street value of $88,000, concealed inside three separate luggage bags in the rear cargo area of the car.  Also located in one of the luggage bags was $4,130, hidden inside a Crown Royal bag. 
Smith, Paige, and Prophetwere allarrested and booked into the Calcasieu Correctional Center and charged with possession of CDS V with the intent to distribute.  They were all released on a $10,000 bond set by Judge Sharon Wilson.
---