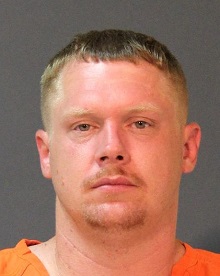 Lake Charles –
On June 29 at approximately 10:00 p.m. Calcasieu Parish Sheriff's Office deputies conducted a traffic stop on an SUV near the intersection of Pujol Road and Lebleu Cemetery Road in Lake Charles. 
 When the deputy spoke with the driver, David M. Holt, 34, 3251 Burson Road, Lake Charles, he could smell the odor of an alcoholic beverage emitting from his person.  The deputy also observed him to have bloodshot eyes and unsteady balance. 
After Holt performed poorly on a standard field sobriety test he was arrested and transported to the Calcasieu Parish Sheriff's Office for breath intoxilyzer test; which he refused.  After the deputy learned Holt had a suspended driver's license due to a prior DWI, he obtained a warrant to have Holt's blood drawn for a toxicology report; he was then transported to a local hospital.  After hospital personnel collected the blood sample he was transported back to CPSO. 
Holt, who has 2 prior DWIs, was booked into the Calcasieu Correctional Center and charged with DWI 3rd; driving on a roadway laned for traffic; and driving under suspension.  Judge Ron Ware set his bond at $8,500.
CPSO Cpl. Jeremy Wolford was the arresting deputy on this case.