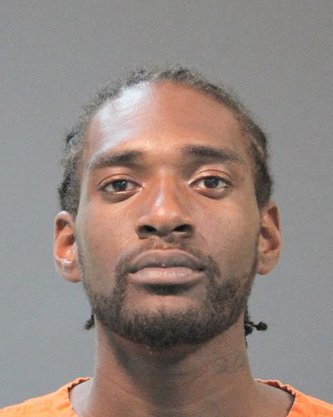 Lake Charles, LA –
On May 18 at approximately 7:00 p.m. a Calcasieu Parish Sheriff's Office deputy made contact with Donovan Christian Lawrence, 26, Lake Charles, at convenience store on Highway 14 in Lake Charles and arrested him for trespassing.  While searching Lawrence's property the deputy located synthetic marijuana.  While the deputy was speaking with Lawrence, he began to physically resist the deputy's verbal commands and ran from the deputy.  After a brief foot chase, a struggle ensued and Lawrence gained control of the deputy after committing a battery on the deputy. 
The deputy attempted to gain control of Lawrence and was forced to draw his Taser.  The deputy deployed his Taser; however, Lawrence continued to physically resist and disarmed the deputy of his Taser.  At this point, the deputy physically separated himself from Lawrence and ordered him to drop the Taser.  Lawrence charged at the deputy with the Taser actively cycling, forcing the deputy to pull his duty weapon and fire a round at Lawrence.  The shot did not strike Lawrence and he continued to fight the deputy.  Lawrence was able to gain control of the firearm by biting the deputy, at which time he was able to disarm the deputy of his duty weapon.  He pointed the firearm at the deputy while threatening to kill him if he came any closer.  Lawrence again ran from the deputy while still armed with the CPSO duty weapon, as the deputy attempted to recover from the battery.  Throughout the incident, the deputy continued verbal commands. 
Lawrence was located by additional responding deputies and was observed attempting to dispose of the firearm.  He was taken into custody by the deputies.  He was booked into the Calcasieu Correctional Center and charged with 2 counts of disarming a police officer; possession of a firearm by a convicted felon; obstruction of justice; possession of synthetic marijuana; trespassing; battery of a police officer; injury requiring medical attention; resisting an officer; and attempted 1st degree murder.  His bond was set at $240,000.
The deputy was treated and released at a local hospital for his injuries.