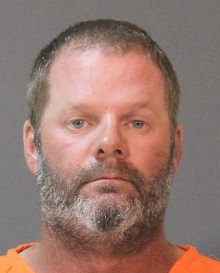 Lake Charles –
Last night at approximately 7:50 p.m. a Calcasieu Parish Sheriff's Office deputy responded to a call at a residence on Patton Street in Sulphur in reference to a burglary in progress. 
Upon arrival the deputy located the suspect, later identified as David S. Rozas, 45, Sulphur, outside the residence holding a gun in his hand.  The deputy made contact with Rozas and gave loud verbal commands for him to drop the gun.  Rozas did not comply with the deputy's commands and raised the gun toward the deputy, causing the deputy to fire.  Rozas began firing back at the deputy, causing the deputy to take cover and continue to fire at which time Rozas was struck several times. 
After further investigation by detectives it was learned Rozas had broken into the home of his estranged wife, armed with a handgun, and was searching the residence for an acquaintance of the wife, who was not there.  The victim was able to call 911 and exit the home in an attempt to hide outside.  Detectives also learned Rozas started to drive away but when he witnessed the victim hiding outside he exited his truck armed with the gun and chased her down, at which time the deputy arrived on scene. 
Rozas was transported by ambulance to a local hospital with non-life threatening injuries.  Rozas was arrested and charged with attempted 1st degree murder of a police officer; aggravated assault with a firearm; and home invasion.  Upon his release from the hospital he will be booked into the Calcasieu Correctional Center.  Judge Robert Wyatt set his bond at $875,000.
CPSO Detective Randall Ravia is the lead investigator on this case.
Sheriff Tony Mancuso has requested the Louisiana State Police conduct an investigation into the officer-involved shooting incident.