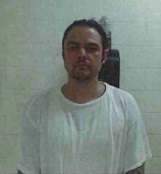 Lake Charles –
On May 22, at approximately 11:50 a.m. the Calcasieu Parish Sheriff's Office received a call from the CSE Federal Credit Union, located at 1170 Sam Houston Jones Parkway in Moss Bluff in reference to a robbery.  The preliminary investigation revealed the suspect entered the credit union and demanded money from the teller.  After receiving an undisclosed amount of money, he fled on foot into a wooded area located behind the credit union. 
Upon deputies' arrival CPSO K-9s were able to track the suspect's scent to an area where it is believed he left in a vehicle. 
After further investigation detectives viewed video surveillance footage in the area of the credit union and were able to identify a car of interest that drove by the credit union several times before the robbery and leave the area immediately following the robbery. 
Detectives received several leads and were able to identify the suspect as Ray J. McAllister, 37, Del Valle, Texas.  With information obtained during the investigation detectives were able to place McAllister in Lake Charles during the time the robbery occurred.  Detectives also learned the car seen on surveillance in the area of the credit union prior to and after the robbery was borrowed by McAllister.   After further investigation on August 14, Judge David Ritchie signed a warrant in the amount of $150,000, charging him with robbery.  McAllister is currently incarcerated in Waco, Texas on unrelated charges.
The FBI assisted in the investigation.
CPSO Detective Roland Jones is the lead investigator on this case.