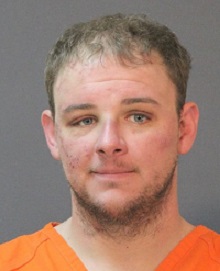 Lake Charles –
Earlier today, the Calcasieu Parish Sheriff's Office received a call in reference to a burglary in progress at a business on Old Highway 90 in Vinton. 
When the deputy arrived he located the suspect, later identified as Christopher J. Dirgo, 32, GA.  When the deputy attempted to detain Dirgo he became irate and attacked the deputy in an attempt to evade arrest.  During the struggle the deputy deployed his taser, striking Dirgo, at which time Dirgo got on top of the deputy, grabbed him around the neck, choking him and causing the deputy to lose his breath.  Dirgo also began gouging the deputy's eyes his fingers.  A second deputy arrived on scene at attempted to detain Dirgo, at which time he turned and fought with the second deputy and gouged the deputy's eye.  Several other deputies arrived on scene and after a prolonged struggle they were able to detain Dirgo. 
After further investigation it was learned Dirgo had busted a glass door located on a bus parked outside of the business and then entered the business and began kicking locked doors, breaking the locks.  Deputies also located Dirgo's truck in the parking lot, which contained a clear plastic bag of suspected marijuana and a revolver.  Dirgo was arrested and booked into the Calcasieu Correctional Center and charged attempted 1st degree murder of a police officer; simple burglary; simple criminal damage to property; resisting an officer by violence; battery of a police officer; possession of CDS I with intent to distribute; and illegal carrying of weapons in the presence of a CDS.  His bond is still pending.  
The deputies were transported to a local hospital where they were treated and released.