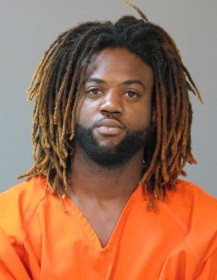 Lake Charles–
On November 28 two deputies with the Calcasieu Parish Sheriff's Office were dispatched to an apartment complex on Deesport Street in Lake Charles to serve an order of protective custody (OPC) on Justin T. Freeman, 25, 1025 Deesport Street Apt. A, Lake Charles.
When deputies arrived on scene Freeman began to fight with deputies and bit one of the deputies on the hand, drawing blood. Freeman continued fighting with deputies and bit the other deputy on his chest, leaving a bruise. Deputies were able to gain control of Freeman and transport him to a local hospital for the OPC. Blood was drawn from Freeman at the hospital, and deputies later learned that Freeman was positive for HIV.
On December 7 while Freeman was being booked into the Calcasieu Correctional Center on unrelated charges by the Lake Charles Police Department, he began fighting with correctional officers. During the struggle Freeman bit one of the correctional officers on his leg drawing blood.
On December 8 after further investigation, Freeman, who is currently incarcerated on the LCPD charges, was charged by the Calcasieu Parish Sheriff's Office with 3 counts of intentional exposure to the aids virus; and 2 counts of second degree battery.
Judge Guy Bradberry ordered Freeman be held with no bond.
CPSO Detective Michael Primeaux is the lead investigator on this case.