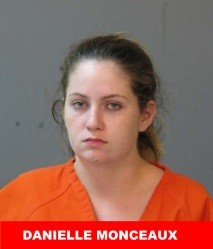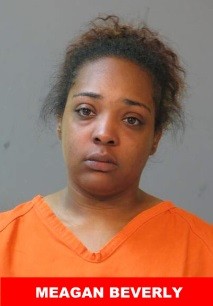 Lake Charles –

On September 4 shortly before midnight, the Calcasieu Parish Sheriff's Office responded to call at a home on Nelson Road in reference to a one week old baby not breathing. When deputies arrived two women, later identified as Danielle M. Monceaux, 22, Lake Charles, and Meagan R. Beverly 22, Lake Charles, were standing in the family room holding the baby, along with two other young children. When emergency medical personnel arrived they were able to take the baby's vital signs and determine the baby was breathing and was not in distress.
Once inside the residence deputies smelled a strong odor of marijuana coming from inside the home. While speaking with Monceaux she stated that the baby had fallen asleep with a family member on the couch and the baby's face became wedged between the family member's leg and the couch. Both Monceaux and Beverly admitted they had been smoking marijuana in the home while the three juvenile children were present.
After further investigation Monceaux and Beverly were arrested booked into the Calcasieu Correctional Center and charged with 3 counts of cruelty to a juvenile; and 3 counts of illegal use of CDS in the presence of those under 17. They were both released on a $12,500 bond set by Judge Robert Wyatt.
CPSO Detective Cinnamon Salvador is the lead investigator on this case.